Gold Purity Testing Machine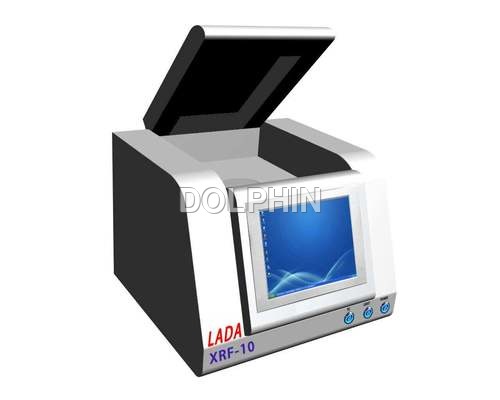 Gold Purity Testing Machine
Price And Quantity
Piece/Pieces

5.90000 onwards INR
Product Description
Dolphin Automation is a big name that deals in the manufacturing and supplying of high-performance Gold Purity Testing Machine that is designed to test the purity of gold samples with high accuracy. The compact tabletop design of this unit makes it easier to handle which makes it highly demanding among our customers. It can also be used to test the quality of various other elements such as sodium, uranium, silver, and many more. Gold Purity Testing Machine offered by us is capable to operate within the temperature range of 5 to 40 degrees Celsius.
We mainly deal in Pune & Maharastra
we are leading manufacturer and suppliers of gold purity testing machine in Maharashtra.
Specification: LADA XRF- 10


| | |
| --- | --- |
| Analysis Range | 1ppm to 99.99% |
| Accuracy | RSD<0.1% |
| Sample Form | Solid, Powder, Liquid |
| X- Ray Tube Voltage | 5KV~50KV |
| Camera | HD Camera |
| Filters | Selectable Customized Switches |
| Detector Type | Proportional Counter Tube |
| Test Time | 10Sec ~ 60sec |
| Weight | 39kg |
| External Dimensions | 480*480*390(mm) |
| High Voltage Power Supply | 0~50KV |
| X- Ray Tube Current | 0 microA ~ 1000 micro A |
| Multichannel Analyzer | Multi Channel Simulation |
| Sample Chamber Size | 380*380*60(mm) |
| Measuring Element | Au, Ag, Pt, Pd, Ni, Cu, Zn, Cd, In, Rh |
| Analysis Software | KEY Qualitative Quantitative Analysis software |
Specifications :LADA SI PIN- 100
| | |
| --- | --- |
| Analysis Range | 1ppm to 99.99% |
| Accuracy | RSD<0.03% (Au >_90%) |
| Sample Form | Solid, Powder, Liquid |
| Tube Voltage | 5KV~50KV (USA) |
| High Voltage Power Supply | 0~50KV SPELLMAM (USA) |
| X- Ray Tube Current | 0microA ~ 1000microA |
| Camera | HD Camera |
| Filters | Selectable Customized Switches |
| Detector Type | SI - PIN (USA) |
| Resolution | 145+- 5ev |
| Multichannel Analyzer | KEY - DMCP |
| Sample Chamber Size | 380 x 380*60(mm) |
| Test Time | 10Sec ~ 50sec |
| Analysis Range | All the Elements from Sodium (Na) to Uranium (U) ( Au, Ag, Pt, Pd, Ru, Rh, Os, Ir, W, etc..) |
| Analysis Software | KEY- FP Qualitative Quantitative Analysis software |
| External Dimensions | 480 x 480 x 390(mm) |
| Weight | 38kg |
Instruments Environmental Requirements:
| | |
| --- | --- |
| Ambient Temperature | 5'C ~ 40'C (Suggested that in air conditioning room) |
| Relative Humidity | 15% ~ 90% |
| Power Requirements | AC 220V+- 5V, 50/60Hz |
No High Power Electromagnetic and Vibration interference Sources Nearby